Statistical Data for Paper Products
It is estimated that the Falcon Waste Recovery Depot saves approximately 300 cubic feet of landfill for each metric tonne of products recycled.
For example:
Loose cardboard uses 512 ft³/t
Newsprint uses 108 ft³/t
Since 1995 Falcon Waste Recovery Dopot has saved in excess of 2,396,000 ft³ of landfill space. Comparitively speaking, for Wainwright residents this would be like burying 12.5 "Park Hotels" in the landfill.
It is also estimated that this volume represents approximately 35% of eligible recyclables in the Municipality of Wainwright.
Statistical Data for Paper Products — Volume / Metric Tonnage
YEAR
Old Glossy Magazines & Books
White Ledger
Cardboard
Office Pack
Newsprint
Mixed Waste
TOTAL PAPER
1995
94.650
1996
284.674
1997
298.978
1998
268.257
1999
376.643
2000
18.078
8.381
133.807
9.892
128.818
60.873
359.849
2001
20.378
5.994
189.164
13.584
157.312
84.767
471.199
2002
11.784
9.052
192.925
12.577
213.449
81.937
521.724
2003
3.440
248.430
15.837
294.246
94.279
656.232
2004
2.965
238.807
20.449
217.316
85.828
575.365
2005
7.725
227.252
11.493
130.831
64.697
441.998
2006
2.417
244.798
12.402
124.198
65.291
449.106
2007
7.986
279.528
11.803
181.573
77.831
558.721
2008
8.764
348.382
16.283
120.902
62.602
556.933
2009
16.404
291.329
17.159
128.651
60.953
514.496
2010
.946
1.277
359.304
15.586
123.777
69.496
570.386
2011
1.643
1.008
354.117
22.216
108.512
68.632
556.128
2012
3.315
4.026
266.914
23.064
76.582
60.320
434.221
Commodity Totals
56.855
78.728
3,374.757
202.345
2,006.167
947.506
7,989.560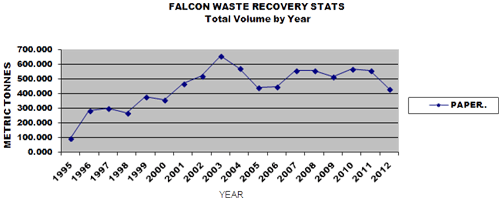 • Start •