Statistical Data for Alberta Dairy Containers
HDPE, or high density Polyethylene, is used in juice, milk, laundry and automotive product bottles. Recycled HDPE can, in turn, become bottles for laundry and automotive products, recycling bins, agricultural pipe, fencing, bags, composters and shipping crates.
Gable top milk cartons are made from polycoat, a high–value material that can be converted into new materials like corrugated medium (the inner layer of corrugated cardboard), linerboard, household tissue products and even fine writing papers. Plastic represents roughly 20% by volume of total landfill wastes.
Statistical Data for Dairy Products — Volume / Metric Tonnage
YEAR
MILK JUGS #2
MILK JUGS Waxboard
TOTAL
1995
1996
1997
1998
3.287
3.287
1999
3.444
3.444
2000
2001
1.829
1.829
2002
2003
2004
2005
2006
2.280
.518
2.798
2007
3.315
1.519
4.831
Commodity Totals
14.155
2.034
16.189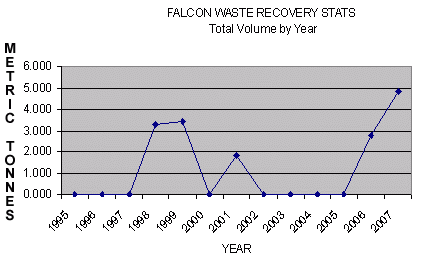 • Start •